Recent Photos
Over the course of our treks into the mountains, and based on the rhythms of daily life in the locale, Amiwa regularly photographs the region and its inhabitants.
Here you will find our most recent pictures before they are archived either
by season
or
by locale
.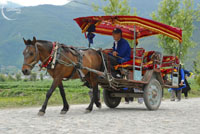 This gallery presents 34 photos of a local festival in Dali county, where the Bai nationality comes together for religious festivals. You will discover the great variety of traditional Bai clothing (the colour depends upon the age of the individual wearing the garment); the colour white is favoured for young women. The embroidery on headdresses, baby slings and other articles of clothing is truly remarkable.
Nor is there any lack of dancing, movement and smiles...